About BOCA
About Us- THEN
During the time Bill Owen served as President of the Arizona Cowpunchers Reunion Association (ACRA), he learned there had been some talk of forming an organization that would raise monies for scholarships for young people of the Arizona ranching community. Scholarships for kids wasn't anything new to Bill, since he had been supporting the Arizona National Livestock Show by allowing pieces of his artwork to be used for an annual commemorative print to benefit their scholarship program beginning in 1990. Bill wanted to make a difference, so he stored the idea in the back of his mind.
Some time later Bill learned of a young man he knew from an Arizona ranching family, who had won a roping, and when asked if he wanted the prize of a horse trailer or a sum of cash, the young man replied that he wanted the cash. When asked why, his response was that he wanted to use it to go to school. This touched Bill's heart, because he knew that young people of the Arizona ranching community are often unable to afford furthering their education after graduating from high school, as he himself had not been afforded that opportunity. That was all the inspiration Bill needed to act on the idea he had stored away a few years prior. In the beginning Bill was told by several people that he was attempting the impossible, but that attitude only served to spur him on. Determination and hard work eventually won out and The Arizona Cowpuncher's Scholarship Organization, Inc. (ACSO) became a reality in 1995, with a 501(c)(3) non-profit status.
BELOW YOU MAY LEARN HOW THE FIRST OF THE ANNUAL ACSO FUNDRAISERS CAME TO BE HELD IN WICKENBURG, ARIZONA, AND READ ABOUT THAT PIVOTAL EVENING. WHAT TOOK PLACE THERE ON MARCH 1, 2003 WOULD BECOME THE BLUEPRINT OF THE ANNUAL FUNDRAISERS TO FOLLOW.
Cowboy Gala, the single fundraiser held to benefit ACSO evolved over time. The first event raised just enough money to fund seven (7) one thousand dollar scholarships for the 1995-1996 school years. Each year after, there was one single day of fundraisers held to generate the funds to continue granting scholarships to young people of the Arizona ranching community: The One Eyed Open Golf Tournament and Cowboy Gala. The 2002 events had been hugely successful, setting records in every way, including attendance and net proceeds. However, within that year another record was set when the Board of Directors approved more in scholarship awards than the fundraisers had netted. It became apparent, that beginning with Cowboy Gala 2003, the annual events would have to generate more monies in order to maintain the claim they had been so fortunate to make throughout the years - that of never having to turn a qualified applicant away.
The first challenge was to find a location that was suitable, with enough local support to make everything work. When Valerie and Bill Owen moved to Wickenburg, Arizona they had no preconceived idea of what it would be like to live there, or how the organization and the annual fundraisers would be accepted and/or supported. However, several individuals from Wickenburg had traveled to Prescott for Cowboy Gala 2002, which led them to believe that moving the event to Wickenburg could potentially work, and the Board of Directors agreed it was worth a try.

ACSO will forever be grateful to Dick Russell, one of those supportive Wickenburg residents, for caring enough to take the initiative to talk to the owner of Rancho de los Caballeros about ACSO and its annual fundraisers. He then took his interest and support a step further, by inviting Jan Currier, Rusty Gant, and Valerie and Bill Owen to his lovely home for dinner one evening. Rusty is the owner of Rancho de los Caballeros in Wickenburg, which is a beautiful and historic guest ranch and golf club located on over 20,000 acres, and where the spirit of the old west lives on – which was an absolutely perfect facility for the events. By the end of the evening, Rusty generously offered the services of this wonderful facility to host Cowboy Gala 2003, and it was the beginning of some very wonderful experiences.


There was one single denominator on which the foundation of the annual ACSO fundraising events had been built - the generosity of the many talented artists who donated their fabulous creations. Without their generosity, the ACSO fundraisers wouldn't have evolved over the years into the unique and standout social event of the year in Wickenburg, AZ.

As previously mentioned, it was absolutely mandatory that Cowboy Gala 2003 grow, so the ACSO Art Committee invited more artists than in previous years, assembling the most impressive lineup of participating artists in the history of their event. They also decided to experiment to see if there was enough support for larger and more expensive pieces, inviting several of the donating artists to provide larger pieces for the auction on consignment. If it worked, ACSO would not only realize a greater income by earning a commission on these larger pieces, but the artists may finally earn something in return for their many years of unselfish support. So, plans were in place for a bigger and better event, and invitations for Cowboy Gala 2003 went out, listing more artists than ever planning to donate and consign art.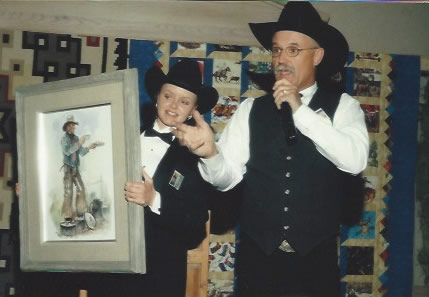 As if to answer the question of local acceptance and/or support of the annual fundraising effort, for the first time in history, ACSO experienced a complete sell-out for Cowboy Gala 2003, which more than doubled the attendance in the previous year. The original plan was to hold the event to 16 tables, but soon after invitations went out the decision was made to add four more, then eventually the 21st table was added. More tables couldn't be added and still have room to display the art, so people had to be placed on a waiting list in case there were cancellations, with a full two weeks left to go. Not a single person changed their mind, so the ACSO Cowboy Gala of 2003 debuted to a full house for the first time ever. That evening, it became abundantly clear what a wonderful community Wickenburg was. It was then and still is full of caring individuals who recognized the need for the beneficiaries of this cause, and the support was phenomenal.
READ ON TO LEARN MORE!
ON THE MORNING of March 1, 2003, the first phase of the fundraiser began at the Los Caballeros Golf Club, where the One Eyed Open Golf Tournament commenced with a 9:00 a.m. Shotgun Start and a Scramble format. Prior, the participants enjoyed a continental breakfast and received a customized crying towel featuring the Los Cab logo, as well as the logo that Cowboy Artists of America Founder and Member and one of the Directors on the Board of ACSO, Joe Beeler, created especially for the event, in addition to other giveaways. Afterward, they enjoyed the awards luncheon, where the winning foursome each received a custom-framed canvas transfer print of one of Russell Houston's "golfing cowboy's". Russell was an award-winning illustrator before turning to western art and has enjoyed applying his talent to this uncommon subject, which was very appropriate for the tournament.

Six tuxedo-clad ACSO Scholarship Recipients greeted guests attending ACSO's evening fundraiser festivities, Cowboy Gala 2003, on horseback and led the vehicles to their respective parking spaces. As guests exited their cars and began to approach the Palo Verde Conference Center where the 5:00 Cocktail Hour would be held, they were drawn by the festive strains of Mariachi Alma del Sol - a Mariachi ensemble made up of nineteen wonderful children ranging in age from 10 to 17 - courtesy of Rosie's House.
Rosie's House started as a safe house for the homeless and for children who needed a refuge from the streets after school. Children apply from surrounding school districts, and when accepted, receive the gift of a musical instrument and lessons in exchange for signing a contract that they will practice at least 25 minutes a day; stay in school, maintaining their homework and acceptable grades; and participate in community service projects or performances. It was a true pleasure to have these delightful and talented young people entertain at our event, which was being held to benefit other young people.

There was a true feeling of excitement in the air as everyone took assigned seats and the Emcee for the evening, Mr. Red Steagall, welcomed them and went on to pray a Cowboy Blessing. Upon completion, the staff at Los Cab began serving the Prairie Harvest Salad, which was only the beginning of the unbelievable culinary feast that Barry "Bear" Brooks, Executive Chef of Los Cab, had been given free rein to create especially for Cowboy Gala 2003.
It was Bill's belief that true "artists" of any type should be given full creative control, and conveyed that to the Chef from the very beginning of the planning for the evening. Bear went all out, serving such wonderful creations as Parmigiano-Reggiano and Black Peppercorn Baguettes with the main course, Cowboy Bed Roll, which consisted of a Sonoran spiced roulade of pork, veal, and beef tenderloins, served with a guajillo chile and coffee barbeque sauce, accompanied by duchesse potatoes and baby purple cauliflower dressed with herb-infused olive oil. The fabulous dinner was topped off with a dessert that truly made guests voice a collective, audible gasp of awe when it began to be served - Boot Hill Mousse - a white chocolate cowboy boot, filled with chocolate mousse, and dressed with fresh berries.

During service of the salads Red was assisted by Don Hedgpeth, Dean Cameron, George Vensel, Bill Blake, and Bill Owen; they worked their way throughout the room, conducting card and dice games. Final playoffs took place at the end of the evening for the prizes of six limited edition prints donated by Bill Owen, Cowboy Artist, Inc.. Canvassing the Four Winds donated their services, canvas transferring the prints, and Montgomery Frames donated beautiful custom frames.
THE LUCKY WINNERS AND THE PRIZES THEY WON ARE AS FOLLOWS:
Jim Custer - "Watering Hole at Redlands"
Jamie Howell - "Foghorn"
Kathy Montgomery - "In a Storm"
Hy Moody - "Orejanos on the Big Sandy"
Maggie Rey - "Makin' a Deal"
Pierce Shaw - "Fixin' to Lay a Trip"

One of the highlights of the evening was the opportunity guests had to meet and talk with the scholarship recipients who were in attendance. These young people were the reason for the evening – and they were the true stars. As Red introduced each one, Bill Owen, Founder of ACSO, presented them with their ACSO Scholarship Vouchers for the 2003-2004 school years. It was a proud moment for each and every person in attendance; they knew their support meant they played a part in each and every one of those young people's lives – and especially their futures.

Then Red entertained the crowd with some of his wit and song, which was a true treat. After, he introduced Mr. Carson Thomas, the auctioneer for the evening. As ACSO scholarship recipients assisted, the live auction portion of the evening began...and oh, what an auction it was. Carson trained five years prior to become a professional Auctioneer, specializing in calling antique, collectible, Native American, and western shows. But it became apparent that he possessed a true talent, which had not been a part of the training he received. His ability to keep people laughing during the auction only added to the high-energy activities. As Carson auctioned off the wonderful, original art the donating artists who were in attendance were introduced to the guests.
There were great moments throughout, but one really had to be there to experience the magic that took place. At the end of the evening, it was an exciting and indescribable pleasure for everyone in attendance to learn the total amount that had been taken in - in excess of $160,000! What a night! Everyone who participated in any way the evening of March 1, 2003 helped to make possible a wonderful and memorable event that those in attendance fully enjoyed, and established the blueprint for Cowboy Gala events which followed.
And so began the traditions established on that special day, part of which meant that ACSO President and Founder, Bill Owen, would present each of the scholarship recipients in attendance at Cowboy Gala events with their ACSO Scholarship Vouchers for the upcoming year. They were always very impressive young people the crowd had the pleasure of meeting each year. The Program for the evening became a mainstay - the same format each year - just a different color to coordinate with the decor for the evening in The Sonoran Room at Rancho de los Caballeros. The elegant beauty of the room, combined with the wonderful artwork displayed on walls built of bales of straw, made for a fabulous contrast that never disappointed.
At Cowboy Gala 2004, Carson Thomas, who had become the Official Auctioneer for ACSO Cowboy Gala events, also became a participating artist for the first time. Carson is a Master Saddle Maker, and he created a one-of-a-kind custom-made 1/2-scale saddle, which he named "Arizona Cowpuncher" especially for the evening. It had a wood tree, rawhide covered, the tree style was Will James, and it had an 8" seat, 7" swell, and 2" cantle. The pattern was a combination Basket Stamp and Flower; with Oxbow-style rawhide covered stirrups. Carson also made the mohair cincha, as well as the custom oak saddle stand, which was leather covered. The saddle had silver mounted Riggin' Dee's, silver rope-edge concho's and matching flank cincha buckles, and came with it's own genuine, to scale, Navajo saddle blanket. On the front of the saddle stand hung a custom Lady Leg bit (Eduardo Grijalva pattern) with headstall, split reins, and silver trim concho's and buckles; all scaled down to the proper size to coordinate with the 1/2-scale saddle.


It soon became apparent there was going to be a bidding war after Baxter Black began the auction of Carson's piece of art. Several people bid and it then came down to two determined individuals. When Baxter finally announced this piece of art sold at $33,500 the entire crowd gave the two final bidders and Carson Thomas a standing ovation! Talk about excitement!

Carson said, "I've custom built saddles since 1979. My work is in every state in the United States and in thirty-six foreign countries. I've custom built for the working cowboy as well as President Reagan. I started building 1/2-scale saddles over twenty years ago, and sold them in art galleries. I've toured Europe giving saddle-making demonstrations, promoting the western heritage I love."

Note: The bit, concho's, buckles, Dee's, and quick-change buckles were custom made by David A. Moralez, Jr. Born in Wickenburg in 1964, David grew up on a small cow outfit that has been in the family for over ninety years. He made his first pair of spurs in 1987 from an old horseshow rasp using a forge at Benegas Ranch in Wikiup, Arizona. He is proud that he is 100% self-taught.

Each year a Bill Owen art image was selected for the Cowboy Gala invitations, and each guest received a dozen envelopes and note cards of the piece; all compliments of Arizona Lithographers of Tucson, Arizona.
MARCH 5, 2005
THE ONE EYED OPEN GOLF TOURNAMENT AND COWBOY GALA 2005 were the 10th and final annual fundraisers held to benefit The Arizona Cowpuncher's Scholarship Organization, Inc. ACSO was proud and happy that the golf tournament and evening festivities were held once again at the beautiful and historic Rancho de los Caballeros in Wickenburg, Arizona! Not only is this guest ranch and golf club a gorgeous facility but the service, hospitality, fun, and food is unsurpassed. It was the PERFECT setting for the ACSO events! At the 10th annual fundraiser held to benefit ACSO, Founder Bill Owen and his wife, Valerie, announced Cowboy Gala 2005 would be the final fundraising event. While many supporters expressed their disappointment and wished the event could continue, they were happy to know they took part of a wonderful cause, which made it possible to fulfill Bill Owen's dream that the scholarship organization would be able to continue granting scholarships to young people from the Arizona ranching community even after he was no longer with us.
All of the artists invited and agreed to participate, were and are outstanding artists, accomplished in their own right. Many were Active Members of the Cowboy Artists of America, although some listed are now deceased, Emeritus, or no longer members. At the time, there was only one other show where people had the opportunity to see as much CAA art by the Active Members all at one showing, and that was the annual Cowboy Artists of America Sale and Exhibition.
ACSO was always so very pleased that Mr. Red Steagall was able to serve as the Emcee of many of the fundraising events throughout the years in addition to entertaining with his wit and songs and it was particularly an honor and befitting that he did once again for the finale. Red is best known for his wonderful Texas Swing dance music and such songs as "Here We Go Again", "Party Dolls and Wine", "Freckles Brown", and "Lone Star Beer and Bob Wills Music". In addition to being a successful songwriter and recording artist, Red has made personal appearances, performing an average of 200 days per year over the past 30 years. He has authored three books, including, "Ride for the Brand"; a collection of poetry and songs embracing the western lifestyle that Red loves and lives. The book includes lead sheets and is illustrated by Cowboy Artists of America members, Joe Beeler, Fred Fellows, Bill Owen, and Howard Terpning. Red released his second book, "The Fence That Me and Shorty Built", in April of 2001. It contains all new poems and songs, written since his first book was published. Red is also a television personality, has appeared in several motion pictures, and has hosted his one-hour syndicated radio show, "Cowboy Corner" on 170 stations in 43 states since April of 1994.
About – NOW
Bill Owen passed unexpectedly the morning of June 15, 2013. Upon learning the news, The Arizona Cowpuncher's Scholarship Organization, Inc. (ACSO) Board of Directors voted to ask Bill's widow, Valerie Owen, to fill the Presidency position Bill's passing had created. At the first annual Board of Directors meeting held after Bill's passing, Valerie asked the Board to consider changing the name of the scholarship organization to honor Bill as the Founder, and they immediately and unanimously voted to move forward. Once the legalities were completed, Valerie released this statement:
"Bill Owen (1942-2013) founded The Arizona Cowpuncher's Scholarship Organization, Inc. (which came to be known as ACSO) in 1995. The name has now been legally changed to Bill Owen, Cowboy Artist, Memorial Scholarship Fund, Inc. (to become known as BOCA) to honor Bill's memory and the legacy he left behind.
Bill felt extremely honored that many in the Arizona ranching community invited him to gather research for his artwork by allowing him to photograph while riding, and at times, working right alongside those who live the life he loved and respected; during which he developed cherished friendships throughout the years. Those times and the time he spent in his studio creating the resulting artwork, became his world, and helped him build a 40+ year career as a professional artist and become a member of the prestigious Cowboy Artists of America.
Bill left his mark on the art world. It has been said that he was one of, if not the best, at portraying the Contemporary Working Cowboy. Future generations will come to know his name and of him, as well as the names and about the animals, places and people he enjoyed drawing, sculpting and painting.
He earned numerous awards and accolades during his lifetime, but was most pleased by the success of the scholarship organization. His often expressed wish was that young people from the Arizona ranching community would be offered the opportunity he never had – to further their education beyond high school graduation; and he especially hoped that after his passing, the opportunity would continue to be available for future generations, just as he knew his artwork would be. It was Bill's way of giving back to the Arizona ranching community he felt so indebted to, and saying, "Thank you" indefinitely. I hope he knows he succeeded on all counts – as the man, artist and friend that he was to so many."